History
History of the Ross Valley Paramedic Authority
The Ross Valley Paramedic Authority (RVPA) was established in December 1982 as a Joint Powers Authority (JPA) with eight member agencies. Discussions began in 1980, at a time when the idea of paramedic services was being implemented elsewhere in the County and across the nation.
San Rafael, Novato, Southern Marin, and Marin County FD's had all started fire department based advanced life support systems in the recent past, and, "Ross Valley was the last pocket needing service," said Larkspur Fire Chief William Lellis, retired, one of the original RVPA board members. "It was an easy sell to the councils, because of what was going on around us and beyond. The TV Show "Emergency" had recently filmed an episode at the former Hamilton Air Force Base, and it was great PR for the value of Paramedics."
"As a mayor of Fairfax I had been pushing to expand and upgrade our Fire/Medical response with accredited and licensed paramedics as the figures showed the largest percentage of our runs, by far, were medical aids, not fires. In 1980 I knew Fairfax could never afford paramedics 24/7, but thought we might throw in with other cities and towns in the Ross Valley as a way of funding it by sharing the costs. I got together with then Fairfax Fire Chief, George Hettema, and we called a meeting with representatives from the various towns and fire districts to see if a cooperative agreement to share paramedic services would work," said Frank Egger, one of the founding board members.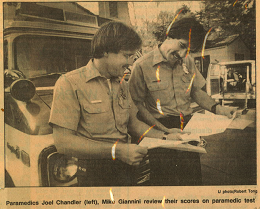 Paramedics Joel Chandler and Mike Giannini review their scores on the Paramedic test.
Members were the Towns of Corte Madera, Fairfax, Ross, and San Anselmo, the City of Larkspur, the Kentfield and Sleepy Hollow Fire Protection Districts, and the
County of Marin (with respect to certain unincorporated "pockets" in the Ross Valley). The RVPA was formed to provide free paramedic service and ambulance transportation to the nearest hospital for Advanced Life Support (ALS) patients. RVPA was not intended to transport Basic Life Support patients (BLS), i.e., in non-life-threatening situations.
A private ambulance provider, United Ambulance, was contracted to transport BLS patients for a fee.
A ballot measure for public funding, Measure "A", easily passed in each community on June 6, 1983. The measure required two-thirds voter approval, and won with 89.1% in favor. The initial tax was $25 per household, and the first annual budget was estimated at $350,000. Service began on January 1, 1984, and a dedication ceremony was held at the Ross Fire Station on January 28, 1984. The first call was for a motorcycle accident in Kentfield.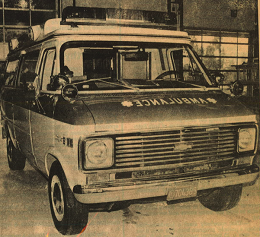 The first ambulance used, on loan from the Southern Marin Paramedic Authority.
The RVPA ambulance was stationed in Ross due to its central location. The Leonard and Beryl Buck Foundation provided a $120,000 grant to purchase an ambulance and create a "dry period" reserve to cover expenses between when
the RVPA's initial tax was levied and when it was collected and disbursed. An ambulance was leased from Southern Marin Paramedic Authority for the first few months until the newly built RVPA ambulance arrived from Ohio in March of 1984. It was dedicated in memory of Jay Ingels, a driving force in obtaining paramedic service in the Ross Valley.
Six paramedics were hired from an applicant pool of 125 – Joel Chandler, Michael Giannini, Paul Hager, Steve Oman, Gary Petretto, and Erin Reed. Ron Alves was hired as the Paramedic Supervisor, and Corte Madera Fire Chief Robert Shearer served as the Staff Advisor. Jerrold R. Gonce was the Executive Officer, and Linda Brandelius served as the Secretary. "Early challenges included finding our way around the Ross Valley. All six paramedics and myself came from outside of Marin. While all had plenty of paramedic clinical experience, the Ross Valley and the Marin system was new. Once all personnel were hired, went through their certification process' and hospital clinical time, we had roughly 30 days to get in service," said then RVPA Paramedic Supervisor Ron Alves.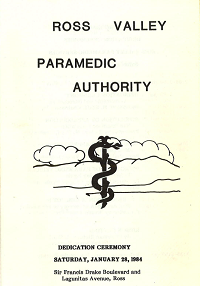 The cover of the program from the dedication ceremony held in January of 1984 at the Ross FD.
Paramedics initially worked a 24-hour shift with a 56-hour average workweek. Compensation ranged from $1,552 to $2,294 a month. Paramedics also started receiving firefighter training that first year, and eventually were designated formally as Paramedic Firefighters. In turn, the Paramedics served as instructors for ongoing training for all career Firefighters in the member agencies to Emergency Medical Technician Level 1. "The best part was working with the firefighters that were already established in the Ross Valley. What a great group of people. They were all very accepting of us and the program," said Mike Giannini, who today serves as the Battalion Chief in charge of MCFD's EMS program that manages RVPA's field services by contract.
In 1984, the RVPA chose to contract with the County of Marin for paramedic service, for several reasons. There was increasing difficulty with obtaining medical malpractice insurance, and potential financial challenges from the passage of Proposition 13. Also, the RVPA was the only non-fire department based Advanced Life Support (ALS) service in Marin County. Novato, San Rafael, Marin County, and Southern Marin fire agencies ALS services had all been established previously and were working well.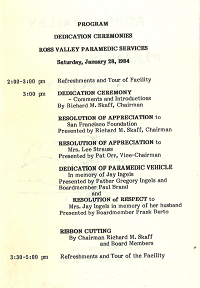 The second page of the program for the dedication ceremony held in January of 1984 at the Ross FD.
Most of the RVPA Paramedics transferred to the Marin County Fire Department (MCFD). The MCFD staffed the service beginning on December 1, 1985, and has done so ever since. The RVPA's initial maximum tax rate was $25 per home. In 1991, voters approved an increase in the maximum tax rate to $30 per living unit.
In 1997, following their concerns regarding delayed service to the southern end of the response area, Corte Madera notified the RVPA that they would start their own paramedic and transport service. Corte Madera launched its service in 1998, and today works closely with RVPA through a boundary drop agreement. This means that the two Paramedic Transport ambulances generally respond with the closest unit and back each other up.
In 2001, the RVPA funded paramedic training for four Ross Valley Fire Department (RVFD) firefighters to enable the first-response engine in Fairfax to deliver ALS Engine Company paramedic service. ALS transport service continued to be provided by the RVPA, usually arriving after the first fire engine. In 2002-3, the RVPA funded paramedic training for five additional RVFD firefighters. This expanded the fire engine-based paramedic service to San Anselmo and Sleepy Hollow. The program was subsequently enlarged to include the Larkspur Fire Department. The RVPA paid for the incremental cost of providing paramedic service.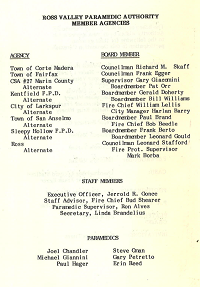 The third page of the program for the dedication ceremony held in January of 1984 at the Ross FD.
In 2006, the RVPA commissioned a strategic assessment which concluded that the transport service provided to the seven jurisdictions by a single ambulance stationed in Ross, together with emergency response provided by fire engine-based paramedic-firefighters was an appropriate level of service for the JPA member communities. The boundary drop relationship with Corte Madera FD further improved the cooperative services for the community. Only a few of the original six Paramedics and Supervisor still work in the overall system. Steve Oman worked for about six months and made a career change; Gary Petretto died of a heart attack in his 30's; Erin Reed became a flight nurse and was killed in a helicopter crash in Washington state in
2005; Paul Hager is a Battalion Chief with Corte Madera FD; Joel Chandler is a Captain in Marin County FD; Ron Alves is a Captain in Marin County FD; and Mike Giannini is a Battalion Chief managing the Marin County FD EMS program and serving as the public information officer for MCFD.
The RVPA JPA reached the 25-year milestone in December of 2007, and is an example of a very successful, cooperative public partnership that provides an essential service in the Ross Valley. "I am very proud of the dedication of all those associated with the JPA. From the Board members and firefighters to the newer medics, everyone wants excellent patient care to
be the priority," said Mike Giannini.
In Memory of Jay Ingels – A Driving Force in Founding RVPA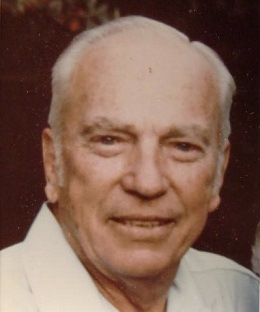 Girard Ingels was born in El Paso, Texas on September 27, 1910. He moved with his family to Southern California and later graduated with a degree in Architecture from the University of Southern California. He did not practice as an architect, but he applied his knowledge and skills to a long career in the sale of structural steel and service as a building inspector for the County of Marin.
Jay married Amelia Mae (Mickie) Sharp on April 29, 1937. Following the birth of son Gregory in 1943, the family moved to Seattle, Washington where Jay worked for the Boeing Company at the time of World War II. Their second son Paul was born in 1947.
In 1955 the family moved to Marin County and bought their first home in Sleepy Hollow. Even with a young family and a busy career, he became involved in community service. He served on the Board of the Sleepy Hollow Homes Association.
Jay and his family lived for several years in Manhattan Beach, but they longed to return to their much-loved Hollow. When they moved back this time, they stayed for good and Jay again worked with the Board and added to his work with the Ross Valley Fire Department.
Jay and Mickie's family was always a source of joy and pride to them. Their son Greg was ordained to the priesthood in 1974 and now lives in Windom, Minnesota. Paul and his wife Dot were married in 1971 and live in San Rafael. Jay reveled in his two grandsons, Ross and Scott. He would be proud that they have pursued careers in public service, Ross with the California Highway Patrol and Scott with the San Rafael Police Department.
Jay was considered to be a very important founding leader in the formation of the RVPA. The first RVPA ambulance was dedicated in his memory following his passing in 1983.